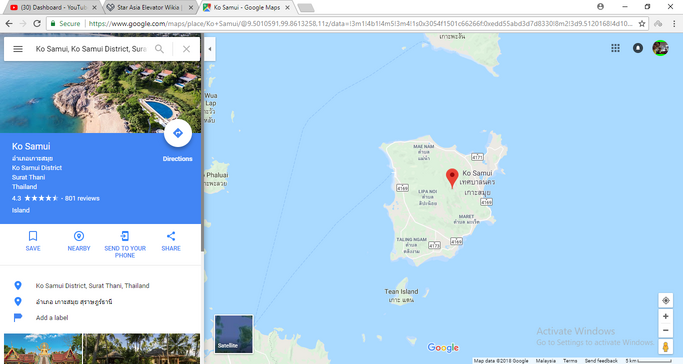 Expected this mid August 2018 (19-21 August)
Senn Elevators will make a visit to Koh Samui, Thailand! Yes, I'm coming soon to Koh Samui very soon. I'll will announce once confirmed. See below for the sub-district that I will go.
Targeted place
Lamai (not confirm yet.)
Chaweng (near to walking street. To be confirmed)
Any hotel near to CentralFestival Samui (500 metres or less)
Elevators
Expected to film up to 5 elevators and 1 escalator (maybe more or less depend on situation)
Duration
3 days 2 night (begins from Surat Thani city or Nakhon Si Thammarat city and ends about afternoon of the day)
Date
Cancelled!
Budget
At least 12349THB/MYR1500 for 3 days 2 night and not over 18935THB/MYR2300 for 3 days 2 night.
Hotels
About range 1000THB-3293THB/night (will rent up to 2 rooms, if there is no family rooms or not possible to fit 4 person instead of 2 person). Up to 1960THB-6586THB/night.
Food
Various food. Expected to spend not more than 1200THB/day (up to max 3600THB for 3 days 2 night).
Fuel
At least 1000THB. Up to 400km+. Petrol may vary depend on distance and petrol consumption like going up hills, down hills and others. Up to over 2000THB if travel more (unless use public transport).
Public transport
Expected to spend up to 1000THB or more depend on distance or per person (unless use own transport).
If have spare left
Might buy items, goodies and anything available at Koh Samui.
Any suggestions or recommended place?
Leave a comment down below!